Huxlow in Bosnia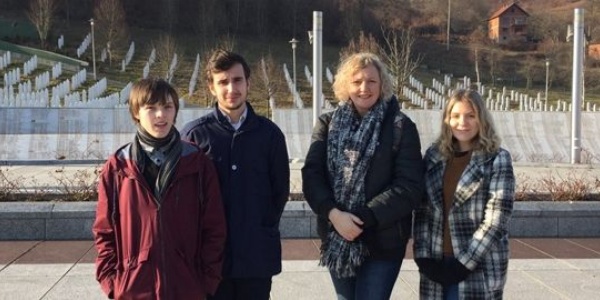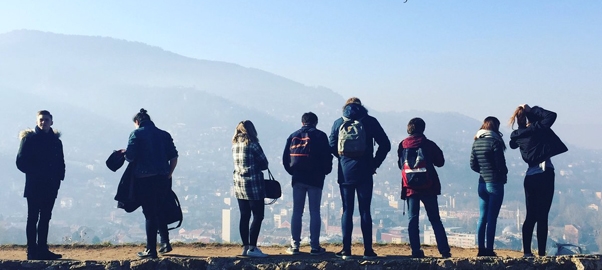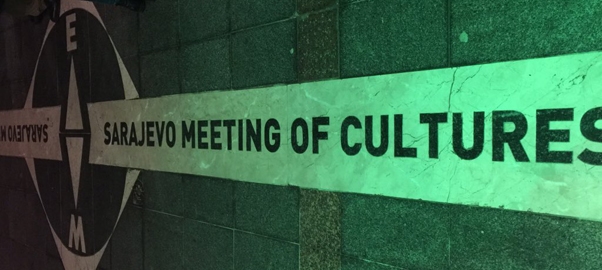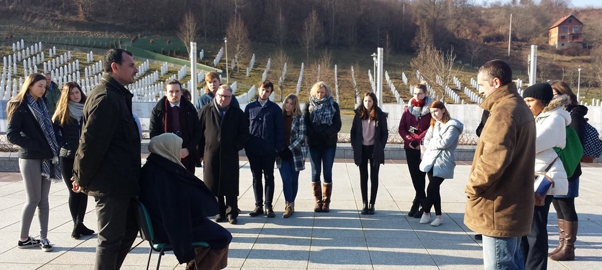 Sixth form students from Huxlow Science College joined their peers from three other schools to travel to Bosnia during February half term 2017, on a pioneering programme that will inspire them to evoke change in their own communities by learning from the past. The four-day visit to Bosnia is part of the year-long Future Leaders programme with the charity Remembering Srebrenica, which aims to educate young people about the Srebrenica genocide and the consequences of hatred. The students attend workshops before and after the visit to equip them with the knowledge and confidence to share what they have learned with their schools and wider communities. The post-visit briefing in March will offer students the opportunity to reflect on the visit and plan their pledges, which will be carried out during Srebrenica Memorial Week in July.
"I hope to educate myself and broaden my views on the world which will then allow me to educate others, so I can help prevent the development of hate in our society."
W Brown, Year 13
The genocide in Srebrenica happened 22 years ago, when General Ratko Mladić and his Bosnian Serb forces marched into the town of Srebrenica and systematically murdered 8372 Bosnian Muslim men and boys. During their visit, the students met survivors of the genocide and relatives of the victims, as well as the International Commission on Missing Persons which has spearheaded the effort to locate and identify the 40,000 people who went missing during the conflicts in former Yugoslavia.
"I think it is important to remember something which happened in modern history. This event happened within my parents, grandparents and even my sister's lifetime yet like most others, they don't know much about it despite its severity and impact on people's lives. It's important to remember this event DID happen and happened in recent years."
A Massingham, Year 12
Remembering Srebrenica works to honour and remember the victims and survivors of the genocide. They organise the UK Srebrenica Memorial Day on 11 July each year and the 8-3-7-2 memorial schools football tournament as well as the Future Leaders programme.
"I hope to use the first-hand experience of the visit to express my passion for preventing anything like this ever happening again."
Mrs Holmes, Head of Sixth Form
Rebecca Heron, Education Manager for Remembering Srebrenica said "Visiting Bosnia and hearing from survivors of the genocide is a moving but vital experience and we know from experience the impact it has. We have taken nearly a thousand people on the Lessons from Srebrenica programme over the last three years and these have all returned to become Community Champions, promoting safer, stronger and more cohesive communities in the UK.
"We are looking to build long-term relationships with these young people and work with them, not just throughout the year, but also to follow their progress after they leave school, either through university or into future careers, to support them in their role as future leaders against hatred and intolerance."
"The trip has changed my views on many things and has truly had a deep impact on me. I have now learned about the horrors of genocide but have also been able to see that bridge between initial nationalism and racism to eventual genocide and events that seem horrifically unreal in what we believe to be our "civilised" society.
The experience has also allowed me to take in a new culture and understand the joys of various cultures living in harmony; Sarajevo is a truly beautiful city where people of different cultures live within feet of each other, work together and generally coexist together. This trip has allowed me to see that and allowed me to see how we must protect other places from this, so that a genocide like the one that happened in Srebrenica never happens again.
Hearing the testimonies of various survivors only made all this clearer to me: how the West failed to react, how the West thought that nothing like this could possibly happen and how the West ignored the warnings. From this I wish to take forward the message that these things are not one-off events, they are real possibilities if we refuse to act. However, following this trip I feel empowered to act against the rising tide of nationalism that is resting in the West, so that "never again" truly means never again. "
W Brown, Year 13