CCLG's Childhood Cancer Conference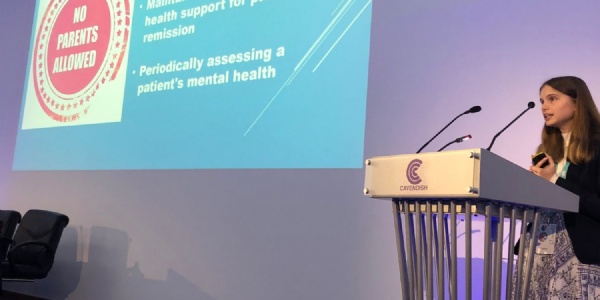 Here at TENC we are so proud of Ellie, who was asked to speak at a conference in London about her experience struggling with mental illness whilst receiving treatment for cancer .
Here's what Ellie has to say:
I had the honour of being asked to be a guest speaker at CCLG's Childhood Cancer Conference, which is a conference that unites professionals, researchers and patients in the childhood cancer community, with the common goal of improving childhood cancer treatments and awareness. In my speech, I advocated the importance of mental health treatments for young people with cancer - having suffered with a mental illness during my cancer treatment, it is a topic very close to my heart.
A staggering 80% of young people with cancer believed that the impact of cancer on their mental health was just as big as their physical health, so it is imperative that mental health treatment for young people with cancer is made a priority.
As well as sharing my own experience with a mental illness, I shared with the audience what I thought could be improved. For example, having fast and free Wi-Fi on the ward so that young people can maintain vital connections with friends and family, reducing feelings of isolation and depression. Moreover, scrapping the 'one size fits all' approach to mental health by allowing young people to choose between a few different treatment options, rather than just being offered standard counselling.
It was reassuring that a paediatric oncologist (kid's cancer doctor) approached me after my speech and told me that she would begin to implement my ideas and improvements into her own cancer clinic!!!!
Also, I have been offered the incredible opportunity of joining the 'Cancer Research UK kids & teens' panel, so that I can help direct the charity onto what trials they should fund and areas of childhood cancer that they should focus on, such as better treatments and early diagnosis.