Futures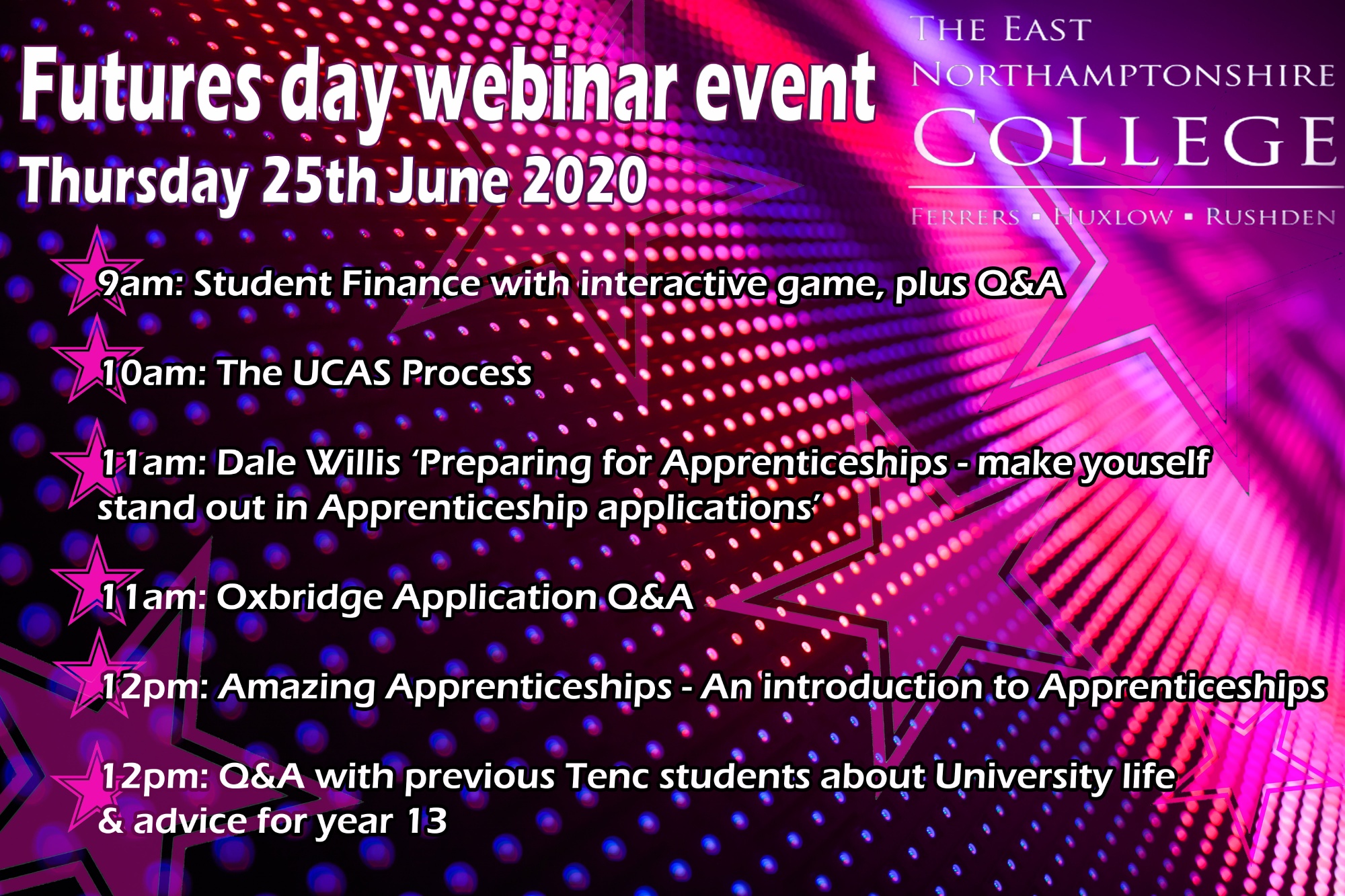 ---
COVID-19 Latest Virtual Events:
There is fabulous new live stream for all things connected to the human body. It is covering a wide range of resources linked to GCSE and A level as well as looking at what's needed for going into a medical career.
Operating Theatre Live TV
LIVE surgery every Tuesday & Thursday at 10.00am.
For students aged 14-19+
https://www.operatingtheatrelive.co.uk/teachers
Free access for schools on all things human body for students aged 14-19 or those on an access courses to healthcare or medicine. In each live episode we'll be going into the operating theatre to examine the incredible structure of the human body.
Live close up dissection of real and anatomical specimens, GCSE, National-5's, A Levels, Higher's, BTEC, IGCSE & IB matched, downloadable exam linked worksheets, interviews with clinical staff and tips for the UCAT exam, Certificate for UCAS as well as coaching on university applications. Exam linked Q&A sessions, supporting writing a winning UCAS application and succeed at interview to medical school and boost your science & maths exam performance with our curriculum-linked content
---
Online Train To Teach - Sunderland University Event
We have an online train to teach event taking place tomorrow, Wednesday 24 June 4pm – 7pm - https://www.sunderland.ac.uk/open-days/train-to-teach-june-2020/
Following on from another successful year in the School of Education, we are holding our first ever Online Train to Teach event to provide quality information and academic support to anyone interested in starting a career in this rewarding profession.
Our online event will provide you with the opportunity to explore routes into Primary, Secondary and Post-compulsory Education and Training teacher trainee courses. Our diverse courses will cover teacher training areas in a large number of subject areas including: STEM (Science, Technology, Engineering and Mathematics), Physical Education, Science, Humanities and Religious Education – to name just a few.
Studying a teacher training course has evolved, not only do we offer on-campus courses but we also offer online courses and courses you can study part-time.
The University of Sunderland's Undergraduate Education courses are ranked 2nd in the UK according to The Guardian University Guide, 2020. We have a proven track record of high quality teaching and support, we would love to welcome you to our online event.
Our academics and current students will be on hand to offer advice and support during the event. This is a brilliant opportunity to have all of your questions answered, all from the comfort of your home!
WEBCASTS
Our webcast series helps students and staff in schools and colleges find out more about our specific courses and get a taste of university life, directly from our lecturers and students. Viewers can use live chat to get answers to their questions one-to-one. We also have a wide range of webcasts available on demand so you can watch whenever and wherever is convenient. Delve into topics such as PGCE Distance Learning, Integrated Foundation Year degrees, Media, Finance and Scholarships, Law, Preparing for Healthcare Interviews, Teacher Training and more.
---
University of Cambridge Virtual Open Days


The University of Cambridge Virtual Open Days are just two weeks away!

The Cambridge Virtual Open Days are aimed at prospective applicants in Year 12 (or equivalent) and prospective mature applicants, together with any parents or supporters. Attendees will have the opportunity to explore the University and Colleges virtually and get an insight into what it is like to be a student at the University of Cambridge.

What to expect on the day:

From Monday 29 June to Sunday 5 July, you will be able to find out about the University and Colleges by accessing pre-recorded presentations about our courses, the Colleges and departments, the application process, student life, and finance. A programme containing full details will be released in late June.

On Thursday 2 and Friday 3 July you will have the opportunity ask current students and staff questions in live Q&A sessions. You will also be able to access other live online events. Please note that the live online sessions offered on Thursday 2 and Friday 3 July will be broadly the same on both days.

The Virtual Open Days will be hosted on our new Virtual Tour. The Virtual Tour includes 360 degree photography, articles and films from our Colleges and departments, alongside our Open Day specific events.

How to book a place:

In order to attend our Virtual Open Days, please register in advance. To book your place, please complete this booking form.
---
A Message from the UK University Search Virtual Fair:
Join us for our incredibly special online and interactive UK University Search Virtual Fair. The event will feature universities and colleges from across the UK as well as ten live webinars on essential topics such as UCAS personal statements, clearing, and student finance. We've been running student recruitment fairs for over 5 years at locations such as the Emirates Stadium (AFC) and Old Trafford (MUFC); and have designed an amazing online experience to allow you to explore a huge range of post-18 options. Our Virtual Fair will feature a wide range of exhibiting universities including Russell Group, red brick, modern and specialist institutions. This incredible event will enable you to visit exhibition stands and chat to representatives, view information and videos, download prospectuses and take part in live webinars in the virtual auditorium.
The event is completely free of charge to students, parents and teachers. We know the cancellation of open days and recruitment events, and changes to exams and admission procedures has made choosing your next steps more difficult. This fair is designed to provide you with everything you need to make the right decisions. We look forward to welcoming you to the event.
Click the link below to take part in the UK University Virtual Fair:

---
A page for university, apprenticeship or employment information:
Unifrog - this is a very useful application for students are given access to. They are able to explore and compare universities or national apprenticeships. The apprenticeships are updated every 24 hours and new ones are coming available every day. There are also tools available to support personal statements and CVs as well as a place to store vital information including competencies, activities and meetings. We also encourage parents to take a look!
UCAS – the UCAS website is full of information for students who are considering university as their next steps - from their initial registration, through to university and course choices and advice on writing their personal statement.
Universities either use a points tariff or the ABC system when making their offers to students. Based on their predicted academic grades, students are also able to work out if they are eligible. Click here to find out how the UCAS tariff system works
University Entry Exams:
If students are required to take a university entry exam, they should register with the exams office at the beginning of September.
Student Finance:
Finance English - student finance presentation
APRRENTICESHIPS
Click on the image below to access the National Careers Service E-Pack
Are you thinking about an apprenticeship? There are all types of apprenticeships available, nationally as well as locally. These can be hands-on vocational subjects up to degree level apprenticeships. Here are some links to help you:
Bedford College for local apprenticeships
Here is the link to The National Apprenticeship Show website
Are you looking for work? Here is the link to the Job Shows – held annually in London or Milton Keynes
Here is the link to the government apprenticeship website
The Student Ladder - information on work experience placements, graduate schemes, apprenticeships and job opportunities
Other websites to help you with apprenticeships, internships, interviews and further study are: https://www.allaboutschoolleavers.co.uk/
University Compare website: https://universitycompare.com/
A comprehensive university comparison site, offering students resources, tools, student discounts and university stats and rankings.
Clearing website: https://clearing.co.uk/
A website which tells you everything you need to know about Clearing and Adjustment and offers an app which allows you to speak to universities directly.
Uni Compare app: http://onelink.to/unicompare
Download the Uni Compare app and see our service in action. Works for all smartphones.
Course search: https://universitycompare.com/courses/
Our unique course search allows you to see all of the different courses available for students and lets you instantly see the best course for you!